Free & Fast Delivery
Next Day Delivery

Top Rated By Customers

Customer reviews
Free Demonstrations
Book a Free Appointment
About Our Automatic Folding Mobility Scooters
Our folding mobility scooters have innovative, compact designs, and the automatic folding mechanisms are enabled by a simple remote control.

Features of Automatic Folding Mobility Scooters
Our four-wheel mobility scooters all have comfortable, padded seats, and some also have adjustable, cushioned armrests. Our mobility scooter models have varying maximum ranges, on average around 18km, on one battery charge. With an average maximum speed of 4mph and long ranges, you will find your portable scooter to be a very reliable, smooth ride.
With solid, puncture proof tyres, high maximum user weights, and lightweight construction, you are guaranteed a smooth drive no matter who you are or what your needs are.
The lightweight mobility scooters are also available with VAT exempxion, so be sure to check the correct price! Click here for more information about VAT exempxion.

Need some support?
Have you seen a model that you like, but are not ready to make a purchase yet? We get it, which is why you can contact us to schedule a free demonstration. Our thousands of five star customer reviews do not lie. We will always put your needs first and we are committed to finding an electric scooter that is perfect for you.
Please contact us if you have any questions. We would love to chat to you about your mobility scooter needs.

Travelling with your Folding Mobility Scooter
Are you wanting to use your electric scooter as a travel scooter?
Many of our models come with lithium ion airline friendly batteries. Lithium ion batteries are lightweight and will not affect your ability to fly with your scooter. Air travel is made easy with our compact scooters with their lightweight designs and travel friendly lithium batteries.
The compact size of our lightweight mobility scooters, as well as their lightweight build, makes them so easy to take on-the-go, and the impressive mile range on a single charge means you will be prepared for any adventure.
Easy to store on bus trips, trains, and aeroplanes, our lightweight folding scooters make it easier than ever to go on a journey with your travel companion.
If these models are still not as compact as you would like, check out our folding lightweight mobility scooters for impossibly lighter designs.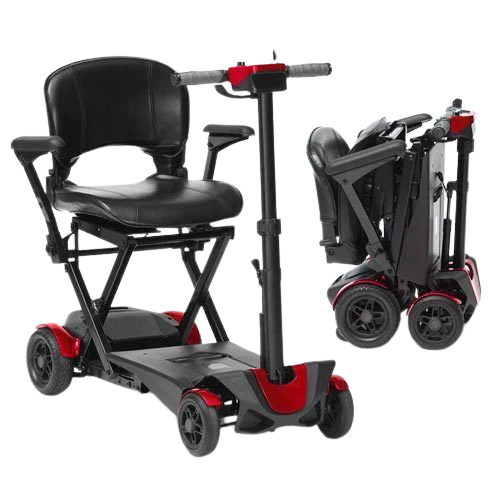 Frequently Asked Question
If properly cared for, your portable mobility scooter battery should last eighteen to twenty four months. Some batteries can even last up to three years if carefully maintained!
If your scooter is fully charged, you should unplug the charger. The batteries for a portable mobility scooter are powerful and can take up to twelve hours to fully charge, so be sure to attempt to charge overnight! When your compact scooter shows it is fully charged, it should be unplugged so as to not drain or overpower the battery.
There are two categories of folding scooters: button activated scooters, and remote folding mobility scooters. Both of these options are incredibly simple! You will either be required to push two buttons on your scooter, or a single button on your remote control. Once this is done, your scooter will automatically fold in seconds.