Free & Fast Delivery
Next Day Delivery

Top Rated By Customers

Customer reviews
Free Demonstrations
Book a Free Appointment
Why Choose a Used Scooter?
Used mobility scooters are great for so many reasons.
All of our second hand electric wheelchairs are fully serviced and refurbished so should run like new, and have a warranty of at least 6 months if they do not perform like they should. This means that you are purchasing an almost new scooter for a fraction of the price!
Buying anything second hand is also a much better choice for the environment. Purchasing pre-owned products means you are saving the item from landfill, and also avoiding the manufacture of a new product that may not be needed. This, in turn, saves on resources and energy used to create the new product, and the fully functioning used product gets a new life.
Used electric wheelchairs are great for your wallet and the environment!

What to Look For in a Used Electric Wheelchair
Before purchasing a mobility scooter, you need to know what to look for. Do you need higher weight capacities? Do you want faster speeds or longer mile ranges? Do you want all of the bells and whistles or are you keeping things more simple?
While these questions are still relevant to the purchase of a used wheelchair, you must also check for any wear and tear.
We offer free demonstrations on all of our models of wheelchair so you can get up close and personal with your chosen model. We fully refurbish all of our used items to get them back on top form, but you should be sure to give your wheelchair a once-over, as well as asking about the age and life of the lithium-ion battery.
Contact us to book your free demonstration!

Which Scooter Suits You?
There are many types of mobility scooters available to you. Below, we will discuss which wheelchair may be the best type to match your lifestyle.
Folding Lightweight Mobility Scooters and Automatic Folding Mobility Scooters Lightweight and foldable electric wheelchairs are perfect for being on the go. Delightfully portable and easy to use, these mobility scooters are a great choice for many people. They have varying mile ranges and weight capacities, but they are perfect for general use!
View our full range of folding lightweight mobility scooters here!!
Even more practical are our automatic folding electric wheelchairs. All the ease of a lightweight mobility scooter, but with an automatic folding mechanism!
View our automatic folding mobility scooters here!.

Lightweight Power Chairs
Lightweight electric wheelchairs are perfect for your everyday use. They are perfect for both indoor and outdoor use, have an average top speed of 4mph, and high weight capacities, so that they are available to as many people as possible. They can go up to 20 miles on one full charge, too, so are perfect for getting you around without battery concerns!
Check out our full range of lightweight power chairs here.

Heavy Duty Mobility Scooters
Our bariatric mobility scooters are great for those who cannot use our smaller models. With maximum mile ranges of up to 30 miles and weight capacities of around 30 stone, we are sure we have the perfect electric scooter for you.
To view our range of heavy duty electric wheelchairs, click here! !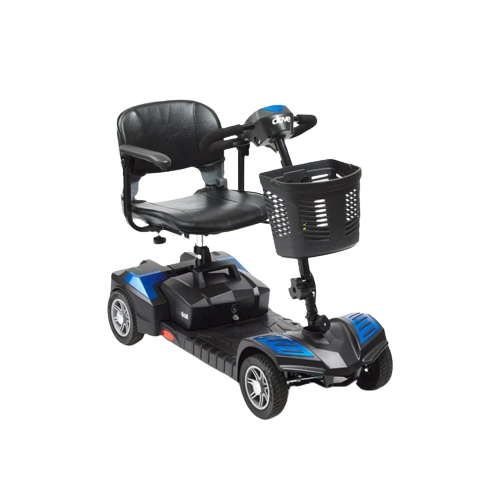 Frequently Asked Question
Buying a used mobility scooter is a great way to obtain a quality product at a much lower price. As long as a second hand scooter has a new or well performing battery, it will also operate the same way as a new one! Ultimately, it is your budget, your preference, and the availability of your preferred model that will be the deciding factor in this decision.
Yes! It is recommended that you get your electric wheelchair serviced once a year, or when you notice a change in performance, like if you notice your tyre tread becoming shallow or are hearing new sounds which indicate problems. Always get your wheelchair serviced from home to avoid unexpected costs and fees. It should cost between £50 and £90.
Lithium-ion batteries should last anywhere from 18 to 24 months when cared for properly.