Free & Fast Delivery
Next Day Delivery

Top Rated By Customers

Customer reviews
Free Demonstrations
Book a Free Appointment
Lightweight Travel Mobility Scooters
Everyone should be able to travel the world without being held back by their own restrictions; whether you have a bad knee, are unable to travel, or don't want to be on your feet all day long.
Our mobility scooters are designed to make travel as easy as possible; whether you're travelling by plane, train or automobile, you can do so with ease. With a compact, lightweight frame designed to with easy disassembly for convenience, it can be folded down in seconds to be easily stored on a plane, a train, or in a car boot.
Relish your retreat with a scooter that will last all day long. Fitted with lightweight AH and lithium-ion batteries, you can travel up to 25 miles range on a full charge (over 6 hours at maximum speed!) without being weighed down by a hefty battery. You'll be able to enjoy your travels in confidence; whether you're avoiding standing in theme park queues, not wanting to slow everyone else down on a family holiday or exploring historic landmarks.
No matter how bumpy the ride is, you and the scooter will stay protected against bumpy surfaces and unexpected potholes. The easy-to-use folding mechanism means they can be used by anyone, and with an adjustable height seat, headrest and backrest, you can stay comfortable whenever using it. As class 2 scooters, they have also been designed with great lighting to keep you visible whenever driving on a pavement or pathway.
Key Features
Foldable

Lightweight lithium-ion battery

Puncture-proof tyres

Adjustable components

Lighting for added safety

Automatic & Manual Folding
Benefits
Suitable for plane, train & car-boot storage

Travel made easy

No need for standing

Safe transportation

Pass through travel restrictions
Free Demonstrations On Travel Scooters
Before you buy a scooter, it's important to try them ahead of time to make sure you are happy with your purchase. We let you try any model before fully committing to your purchase decision so you can have full confidence in your decision. To arrange a free demonstration, get in contact with a member of the team and we will be there ready so you can test drive your scooter.
Why Customers Trust Us
Mobility Solutions Direct are specialist supplier of mobility aids and provide travel scooters to happy customers across the country. With competitive prices and convenient, free & fast delivery on all orders, you can be happy with your purchase whether it's last minute or ahead of time.
Our range doesn't stop at travel mobility scooters, we sell a wide range of 3 and 4-wheel scooters, electric wheelchairs, electric beds & riser recliner chairs, so no matter what your mobility needs are, you find what you're after here.
Our friendly team is on hand to give you helpful advice and find you the right mobility aid for your situation. If you need any help or have a question regarding our foldable lightweight scooters, don't hesitate to drop us an email info@mobilitysolutionsdirect.com or call on 08009 700 381.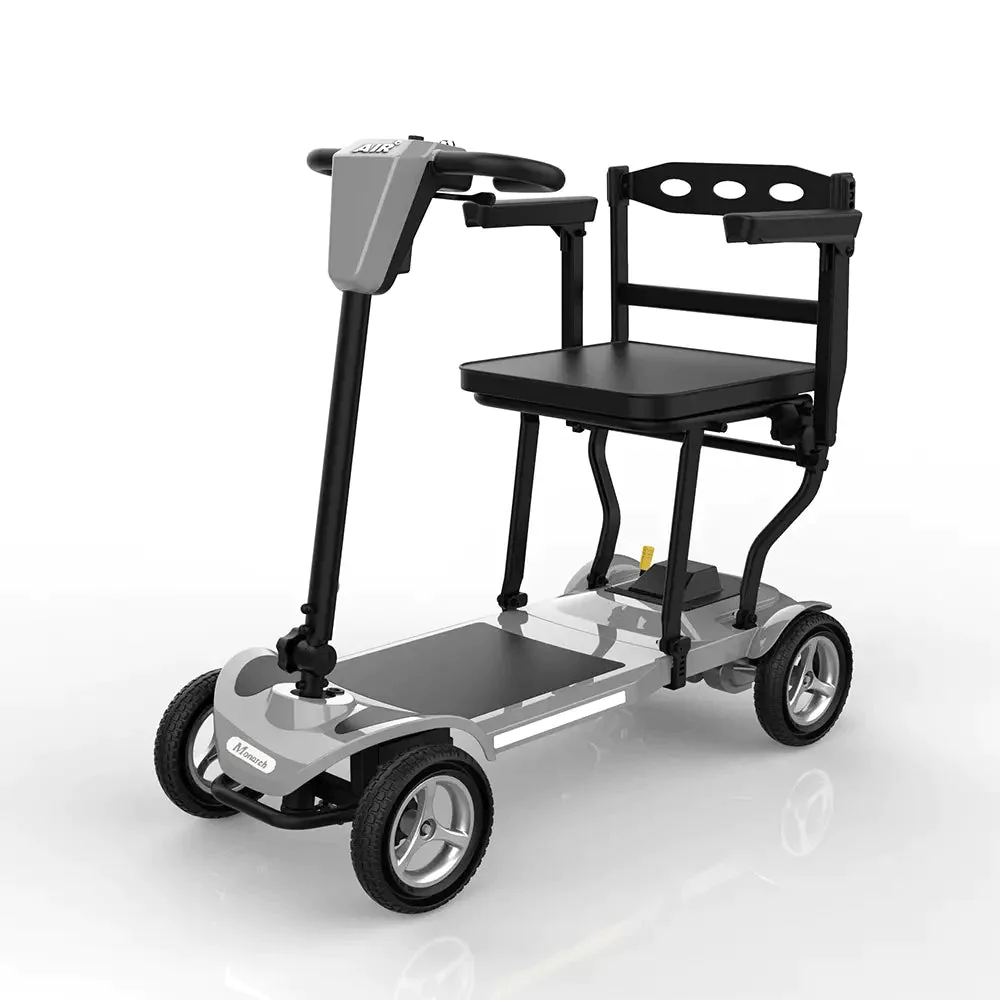 Frequently Asked Question
You can take your scooter or powered wheelchair abroad within the European Union free of charge for up to 30 days in any 12-month period. Before flying abroad, you must notify your airline of the type of battery used and how the mobility aid can be protected at least 48 hours in advance of the travel date. At the airport, the airline must verify that the battery is securely attached to the mobility aid, battery terminals are protected from short circuits and electrical circuits have been isolated. Most travel scooters are designed so the battery can be easily removed; in this case, it must be carried as checked baggage in without restriction.
Yes! Travel mobility scooters are built with compact sizes in mind, so you are able to use it out on pavements and indoors, such as in shops. This is great as you do not need to worry about having to collapse your scooter or leave it unattended while you browse.
Generally, Lithium-Ion (or Li-ion) batteries are used for most types of mobility scooters. This is because they are lightweight yet powerful, and it takes a long time for them to start decreasing in performance.