Free & Fast Delivery
Next Day Delivery

Top Rated By Customers

Customer reviews
Free Demonstrations
Book a Free Appointment
Folding Lightweight Mobility Scooters
Our lightweight mobility scooters are fitted with folding mechanisms for the ultimate easy travel companion.
Built to be small and practical in any circumstance, these Class 2 scooters are built to be driven indoors or outdoors on pavements. With top speeds of 4mph, varying impressive maximum mile ranges, and modern amenities, they are great for short trips.
The Lithium-Ion batteries are smaller to keep the scooters as lightweight as possible, resulting in the slightly shorter mile ranges, but they can still go between 9 and 30 miles on a full charge! Be sure to read the product specifications to view the full range of features on your scooter, as well as capabilities and weight capacities.
Click here to view our range of folding lightweight mobility scooters.

Automatic Folding Mobility Scooters Potentially even more user-friendly than the folding lightweight mobility scooters are the automatically folding scooters!
Still brilliantly lightweight but with the added bonus of a folding mechanism that does all of the work for you, these scooters can assemble and disassemble themselves in a matter of seconds.
These are also Class 2 scooters that are appropriate for both indoor and outdoor use (as long as you stay on pavements). The Li-ion batteries are also kept to a smaller size to maintain a low weight, meaning the mile range is lower than other types of scooter, such as a bariatric one.
Folding scooters are great for travel or storage, as they fold so small that they can easily be stored in a car boot or in a small space so they do not encroach on your home by needing to be parked fully assembled.
You can view our range of automatic folding mobility scooters here.

Heavy Duty Mobility Scooters
Our bariatric mobility scooters are a great option for anyone who needs a large battery or mile range or a model which will accommodate you comfortably.
With maximum mile ranges of around 30 miles, high maximum weight capacities, and an impressive variation of models, we are sure that we have the scooter that will work for you. These electric scooters are full of modern amenities that make them comfortable to ride, such as rotating sport style seats, puncture-proof tyres, storage solutions, and much more.
We also have covered mobility scooters, motorbike style scooters, and even off-road mobility scooters.
These are Class 3 scooters, with higher speed capabilities and the ability to be driven on roads.
Click here to view our range of heavy duty mobility scooters.

Second Hand Mobility Scooters
Often, people will trade in their mobility scooters for a newer model. This leaves scooter stores with high quality, used scooters that are available for a fraction of the price.
Fully refurbished, our used mobility scooters are a great option for anyone! Whether you have never owned a mobility scooter before, want to try a different model, or are just trying to be more budget friendly, this is a great way to save some money while maintaining your mobility.
To view our ever changing range of used mobility scooters, click here.

Free Demonstrations of Any Mobility Scooter
It is important that you know your scooter will work for you and your needs. They are an investment, and with us you are able to try before you buy!
To make sure everything runs smoothly, and that your chosen model works for you, contact us to arrange a free demonstration! We are more than happy to show you our models in person and allow you to test drive your chosen mobility scooter.
Get in touch with us here, and get a free demonstration of any of our mobility scooters.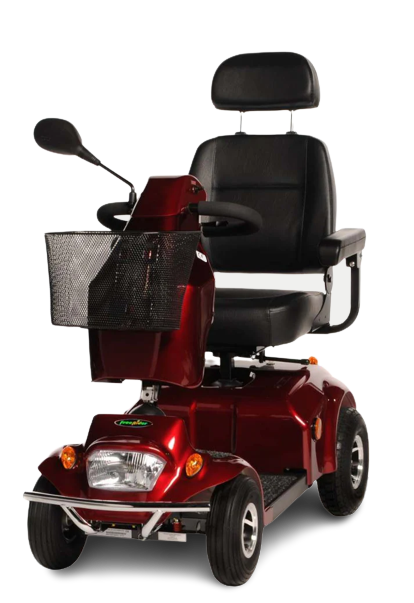 Frequently Asked Question
Mobility scooters or powered wheelchairs are either Class 2 or Class 3 scooters.
A Class 2 scooter has a maximum speed of 4mph and can only be driven on pavements and cannot be driven on roads, whereas Class 3 scooters can ride at 4mph on a pavement or 8mph on a road.
If your scooter is a Class 3, you will need to register it with the DVLA.
Generally, it is said that mobility scooter batteries have a 12 month warranty, but they can easily last 18 months if cared for properly. If you use your scooter only once or twice a week, the battery can perform well for up to 3 years!