Free & Fast Delivery
Next Day Delivery

Top Rated By Customers

Customer reviews
Free Demonstrations
Book a Free Appointment
Folding Lightweight Electric Wheelchairs
Our lightweight electric wheelchairs are fitted with folding mechanisms for easy storage and travel.
Built to be small and practical in any circumstance, these Class 2 powerchairs are built to be driven indoors or outdoors on pavements. Perfect for shorter trips, these powered wheelchairs have top speeds of 4mph, impressive maximum mile ranges, and modern amenities.
Able to be folded up or down in seconds, with super simple controls, folding electric wheelchairs are great for almost anyone!
The Lithium-Ion batteries are smaller to keep the wheelchairs as lightweight as possible. This means that the maximum mile range can be lower, which is why these chairs are great for shorter trips. Be sure to read the product specifications to view the full range of features of your chosen electric powerchairs.

Used Electric Wheelchairs
Often, people will trade in their old electric powerchairs for a newer model. This leaves electric wheelchair stores with high quality, used wheelchairs that are available for a fraction of the original price.
We always fully refurbish our used electric wheelchairs to bring them back to a like-new state, and you can come test drive them to ensure they run just as smoothly as a new model.
Whether this is your first powerchair, you want to try a different model, or are just trying to be more budget friendly, this is a great way to save some money while maintaining your mobility.

Free Demonstrations of Any Electric Wheelchair
It is important that you know your powered wheelchair will work for you and your needs. They are an investment, and with us you are able to try before you buy!
To make sure everything runs smoothly, and that your chosen model works for you, contact us to arrange a free demonstration! We are more than happy to show you our models in person and allow you to test drive your chosen power chair.
Get in touch with us here, and get a free demonstration of any of our electric wheelchairs.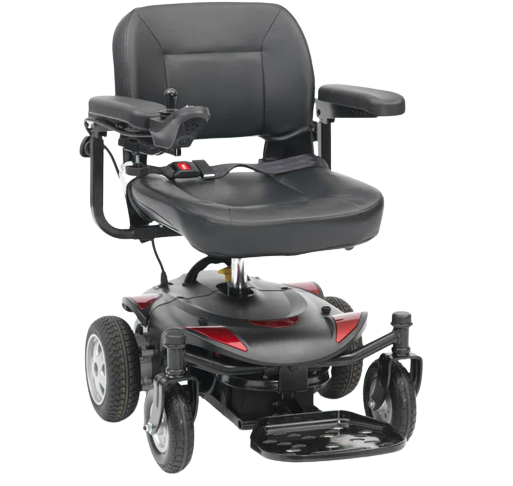 Frequently Asked Question
Electric wheelchairs are often fitted with a manual freewheel lever. When activated, the electrics are disengaged and you are able to manually push your wheelchair.
There are simple steps to maintaining your powered wheelchair. You should often:
Clean your wheelchair
Check for wear and tear
Tighten hardware like headrests and armrests
Inspect and adjust seating components as needed
Proactively replace parts that need to be replaced, like batteries
Generally, a high quality battery like Lithium-Ion batteries will last 12-18 months. Be sure to check the warranty on your batteries to know what to expect of the lifespan.