Free & Fast Delivery
Next Day Delivery

Top Rated By Customers

Customer reviews
Free Demonstrations
Book a Free Appointment
Lightweight Mobility Scooters
Lightweight Mobility Scooters
Travelling with your mobility scooter should be simple and stress-free. This is why our lightweight folding mobility scooters are built with the most lightweight, compact design and can be disassembled in seconds.
We want you to have the best ride possible; this is why we stock only the most innovative and agile scooters out there. Folding away and carrying with ease, they can be placed right in the back of your car ready for whenever you need it next.
Stay prepared and enjoy a stress-free ride with a battery charge that packs a punch (lasting an extended range of up to 30 miles of travel!). These portable mobility scooters use lightweight lithium-ion batteries guaranteeing a long-lasting performance for the best travel possible. Whether you're on a family outing or a shopping trip, you'll be able to get around all day without slowing down or coming to an unwanted halt entirely.
With puncture-proof pneumatic tyres, rear suspension, innovative folding mechanisms, and adjustable floor pans, the lightweight design is guaranteed to last you a long time. Not only are they incredibly compact, but some come with the added convenience of USB charging points so you can keep your phone charged whilst you're on the scooter.
Features
Foldable

Lightweight Lithium battery

Puncture-proof pneumatic tyres

Innovative folding mechanisms

Adjustable floor pans

Ample lights
Benefits
Easy travel and storage

Lightweight journeys

No more long queues

Extended freedom at a moment's notice

Safe rides
It has never been easier to find a lightweight folding mobility scooter that suits your needs. With revolutionary features, folding mobility scooters are the perfect choice for anyone.
Free Demonstrations On Portable Scooters
It's important to try before committing. That's why we let you test out any model before purchasing to give you full confidence in your decision. Get in contact with us today to arrange a free demonstration; a member of the team will be around with the scooter ready and on hand to answer any questions you may have.
Why Customers Trust Us
Mobility Solutions Direct are specialist in mobility aids and provide foldable mobility scooters to happy customer across the UK. With free & fast convenient delivery on all orders, you can start using your scooter as soon as possible. We sell a wide range of mobility scooters, electric wheelchairs, electric beds & riser recliner chairs, so no matter what you're after, we have what you need.
With free demonstrations for all powerchairs, you can try before you buy; so you can be confident and happy with your purchase.
Our friendly team is on hand to give you helpful advice and find you the right mobility aid for your situation. If you need any help or have a question regarding our foldable lightweight scooters, don't hesitate to drop us an email info@mobilitysolutionsdirect.com or call on 08009 700 381.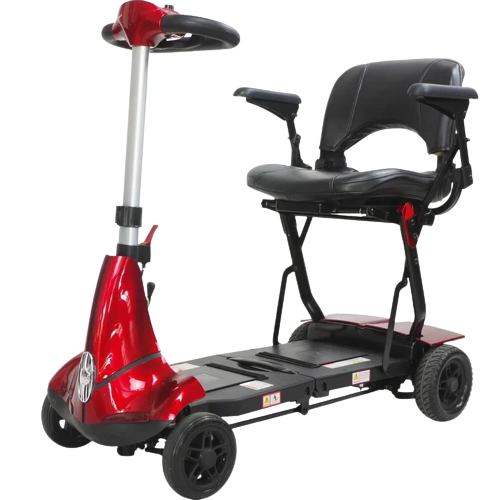 Frequently Asked Question
Some of the lightest models are the Pride Mobility iRide Electric Mobility Scooter at 19kg (21kg with batteries), and the Motion Healthcare mLite Folding Super Lightweight Mobility Scooter at 19.5kg.
Ultimately, the amount you spend on a mobility scooter is dependent on both your budget and your needs. Features within your wheelchair will affect the price, such as battery life and maximum range, storage, speed, and battery type. Class 2 pavement scooters will often be found at a price of £1000 - £2000. Class 3 road scooters are pricier, at around £1500 - £3000. A lightweight folding scooter can be purchased for anywhere from £800 to £2500, whereas a heavy duty mobility scooter can cost between £1500 all the way up to £11,000. Electric wheelchairs with automatic folding mechanisms can range from £1000 to £3000, which is a similar price range to lightweight powerchairs.
Yes! All of the ease and reliability of manual folding mobility scooters made it impossibly easier! An automatic folding mechanism will fold your wheelchair down in seconds. Electric wheelchairs with automatic folding mechanisms can range from £1000 to £3000.