Free & Fast Delivery
Next Day Delivery

Top Rated By Customers

Customer reviews
Free Demonstrations
Book a Free Appointment
Our Lightweight Powerchairs
For indoor and outdoor use, your lightweight mobility scooter is your ultimate travel companion. With an average top speed of 4mph and high weight capacities, we are sure we have the scooter for you.
We have a huge range of electric power chairs for sale. They are fantastically versatile, offering lots of different styles and structures so you can find the perfect scooter for your mobility needs, your storage situation, and your budget.
Whether you are looking for a scooter with all of the bells and whistles, or you just need something simple to pop to the shops with, our lightweight electric scooters are here for you.

Features of Our Lightweight Electric Wheelchairs
Our lightweight powerchairs are full of modern technologies that make them exciting gadgets that run smoothly and effectively.
Flip-up footrests, high weight capacities, adjustable armrests, and joystick controls are just the beginning. Read on to find out more about some of the features of our lightweight electric scooters!

Folding Lightweight Power Chairs
Our folding power chairs are perfect for being on-the-go! They fold up to a small size so they can easily be stored in the boot of a car, or out of your way, and are super lightweight so are even easier to move around, assemble, and store!
Are you certain that you would like your wheelchair to have a folding mechanism? Check out our folding lightweight mobility scooters collection, as well as our automatic folding mobility scooters.

Lithium-Ion Batteries
Our wheelchairs almost always are fitted with lithium batteries. They are one of the most popular types of rechargeable batteries used in portable electronics. This is due to the fact that they have one of the best energy-to-weight ratios, and slow loss of charge when not in use. They also have no memory effect, so if you partially charge your powerchair this will not affect the battery's performance.
Some models of our lightweight scooters can go up to 20 miles on one full charge due to their lithium battery!
Li-Ion batteries last longer, charge faster, and are super reliable so you need not worry about losing charge while out using your electric wheelchair.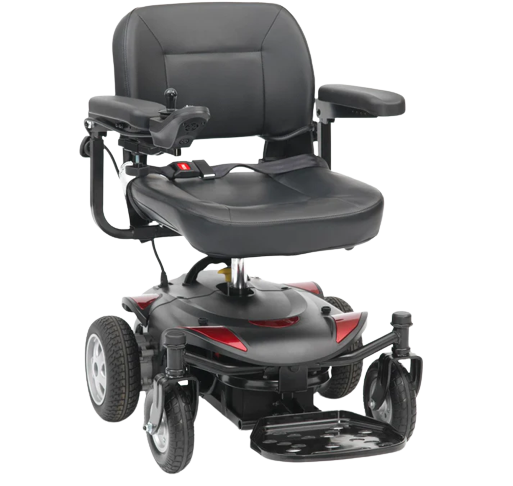 Frequently Asked Question
Lithium batteries can take upwards of 6 hours to charge. Be sure to check the product specifications on your chosen wheelchair to learn more about how to care for your wheelchair battery.
You should treat your wheelchair battery with care, but ultimately you cannot overcharge them! Lithium batteries are powerful and reliable and should last you for 1-2 years before you notice any changes in performance!
Our lightweight power chairs have joystick controls. This means that they are able to be controlled with very little effort or intricate motor skills. They are also super easy to control through a joystick, and getting the hang of it is simple!