Free & Fast Delivery
Next Day Delivery

Top Rated By Customers

Customer reviews
Free Demonstrations
Book a Free Appointment
Regular price

inc VAT £1,558.80

With VAT Relief:£1,299.00 GBP

Regular price

Sale price

£1,299.00 GBP

Unit price

per
Lightweight Electric Wheelchairs
At Mobility Solutions Direct, we go above and beyond to make sure we stock the most convenient and lightweight wheelchairs you can rely on for years to come. With our range, you can enjoy enhanced mobility and independence and travel longer distances without feeling the physical fatigue of a manual wheelchair.
You can expect to take full advantage of modern technology, with easy disassembly with the click of a button, making them perfect for day trips and holidays.
They also feature flip-up footrests, high-weight capacities, adjustable armrests, and convenient joystick controls for easy manoeuvrability.
Outdoor Lightweight Powerchairs
Lightweight electric powerchairs are slightly different to their wheelchair counterparts as they great for both indoor and outdoor use.
Being more durable, larger and heavier than a standard lightweight electric wheelchair; they have you covered for any outdoor adventure. Take full advantage of a more powerful motor to go the distance, larger front & rear wheels ready to take on a wide variety of terrain and adjustable seating for the smoothest journey possible.
With top speeds of 4mph and weight capacities up to 150kg, we're confident you can find the right powerchair for your mobility needs, storage situation, and budget.
Foldable in Seconds
Lightweight folding electric wheelchairs only take seconds to collapse into a compact size, which is great when entering public transport or escaping the rain and needing to get it in the boot of your car.
When it comes to reassembly, you'll again enjoy a stress-free and speedy process so you can be ready to go without holding anyone back.
Do you only have difficulties walking for a full day? If so, our range of folding mobility scooters might be better suited for you.
Why Customers Trust Us
At Mobility Solutions Direct, we provide a wide range of lightweight mobility equipment perfect for storage and travel. We have happy customers all across the UK benefiting from our competitive prices and free & fast delivery - have confidence when you order online today.
Want to try out the device before you purchase it? We offer free home demonstrations before you buy, so you can be happy with your decision. If you need any help or have a question about our lightweight electric wheelchairs, please don't hesitate to get in contact via info@mobilitysolutionsdirect.com or call 08009 700 381.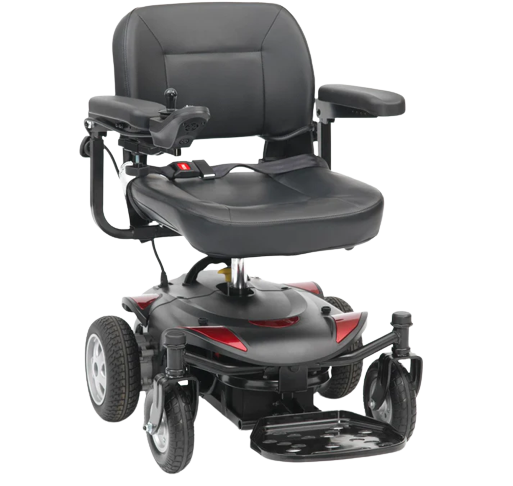 Frequently Asked Question
The Monarch Mobility Carbon Lite Power Chair is the lightest powerchair out there, weighing only 17kg when the batteries are removed - making it the perfect portable mobility solution. With an ultra-lightweight carbon fibre frame, it can travel up to 20 kilometres on a single charge.
Lithium batteries can take upwards of 6 hours to charge. These last longer, charge faster, and are super reliable so you need not worry about losing charge while out using your electric wheelchair. When it does come to charging the batteries, it can be done so easily as they feature an on and off-board charger with an easy-to-remove battery pack.
Like regular powerchairs, they feature joystick controls allowing for easy control with little effort or intricate motor skills required. If you've never used one before, please let us know! We offer free home demonstrations across our entire range so you can get used to it before you buy.
The max speed will depend on a few factors such as user weight, terrain incline and battery charge. Having said that, powerchairs and electric wheelchairs typically have a maximum speed of 4mph, making them illegal to use on the road.
They are! As you'll be sitting on them for a long period of time, they've been designed with your comfort in mind. Of course, it does depend on the model, but you can typically expect removable leg rests, comfortable backrests, adjustable armrests and seat widths ranging between 15.5 inches to 18 inches.