Free & Fast Delivery
Next Day Delivery

Top Rated By Customers

Customer reviews
Free Demonstrations
Book a Free Appointment
Our Heavy Duty Electric Wheelchairs
Getting you safely to your destination is our priority, which is why we have a wheelchair for everyone.
No matter your size or your need for a mobility scooter, you deserve a comfortable ride and an easy way to get around.

Is a Bariatric Mobility Scooter For You?
Sometimes a lightweight electric wheelchair just will not do the trick. If you require a large mile range, our heavy duty electric scooters are for you. Most of our bariatric wheelchairs have a maximum mile range of around 30 miles on a full charge, but be sure to check the product specifications! We wanted to make sure you could get anywhere you needed to without worrying about running out of power, so have prioritised heavy duty mobility scooters with sturdy builds and impressive ranges.
With a higher weight capacity than other types of electric wheelchairs, we are striving to be as inclusive as possible. Everyone deserves to be able to travel around with ease and comfort, no matter your size or mobility needs.
Of course, you need to be fully informed before purchasing your new mobility solution. Contact us now to arrange a free demonstration!

Features of Our Heavy Duty Mobility Scooters
Scoot around town in style with our range of sleek, modern, bariatric electric wheelchairs. We carry lots of different types of mobility scooters so you can find the perfect mobility solution for your needs.
There are lots of modern features in mobility scooters, making them much more high-tech than in the past. With rotating, sport-style seats, large wheels, picture-proof tyres, storage solutions, and stylish designs, we have the electric wheelchair for the modern user's needs.

Covered Mobility Scooters
Cabin scooters, cabin cars, enclosed mobility scooters. Whatever you call them, we have them!
The Drive Royale 4 and Mk2 Plus Cabin Car are partially enclosed and fully enclosed scooters. The Drive Royale also has a maximum mile range of 37 miles on a full charge! Protect yourself from the elements while getting around town with an enclosed electric wheelchair.

Motorbike Style Wheelchairs
Let us subvert your expectations of what an electric wheelchair should be. The Drive Easy Rider is a super cool motorbike style wheelchair which is sure to turn heads. Ride in effortless style while not skimping on the practical aspects of your scooter.

Off Road Electric Wheelchairs
The ScooterPac Off Road Mobility Scooter is unlike any other electric scooter. Not only does it look very impressive with the motorbike-style steering, but it has off road abilities. You will no longer have to be concerned about terrain, as this wheelchair can drive easily on gravel, dirt tracks, sand, and even snow! It can also reach speeds of 16mph for use on private land.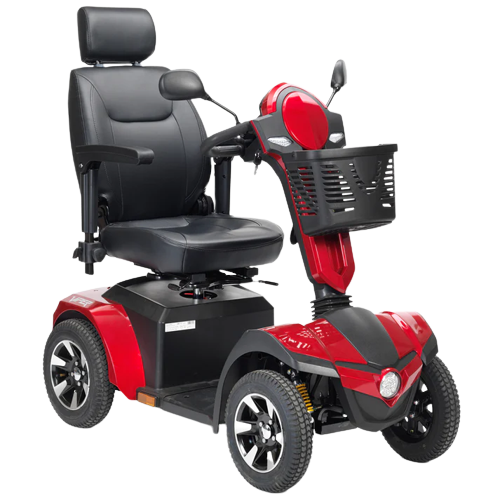 Frequently Asked Question
A heavy duty scooter is simply built to carry heavier loads. They are built with larger seats for increased comfort and have the ability to carry up to 30 stone. Be sure to check product specifications!
No! You do not need a licence for a mobility scooter, but you may have to register it. If your scooter has the ability to drive over 8mph, you can only ride at a faster pace on private land. For more information, click here for government advice on your wheelchair and its restrictions.
Generally, a battery will take 6-8 hours to fully charge. Our lithium batteries are powerful and have a long battery life, with the ability to take you up to 30 miles on one charge! They also will not need to be replaced for years, so you can get lots of enjoyment from your scooter without concerns of a dead battery.