Free & Fast Delivery
Next Day Delivery

Top Rated By Customers

Customer reviews
Free Demonstrations
Book a Free Appointment
Regular price

inc VAT £514.80

With VAT Relief:£429.00 GBP

Regular price

Sale price

£429.00 GBP

Unit price

per

Regular price

inc VAT £718.80

With VAT Relief:£599.00 GBP

Regular price

Sale price

£599.00 GBP

Unit price

per

Regular price

inc VAT £958.80

With VAT Relief:£799.00 GBP

Regular price

Sale price

£799.00 GBP

Unit price

per
About Our Riser Recliners
Riser Recliners are a great option for anyone who needs a little extra support.
Whether you are looking for upholstery or faux leather, we have the chair to match your home decor.
Our mobility chairs have highly cushioned backrests and automated legrests and footrests so you can recline in full comfort. Arm rests offer extra support, and side pockets are there to hold your handset, TV remotes, a book, anything you need for some me-time.
You will not believe the level of comfort you can achieve with our electric riser recliners.



Should I Get a Riser Recliner?
Ultimately, electric recliners are great for anyone, but they can really help people with mobility problems, chronic pains, circulation problems, and much more!
By helping you to sit and stand, this sort of chair gently manoeuvres you to reduce strain and risk of injury.

Reduces Back Pain
By holding your frame from fantastic lumbar support to the headrest, riser recliners are proven to help reduce your back pain, as well as strain on your shoulders and neck. They properly support your body while you relax, preventing bad posture and encouraging comfort.

Helps with Chronic Pain
If you suffer from chronic pain, you may need to move regularly while you sit to reduce the aches and pains. Recliner chairs make this much easier as you can change the chair settings to shift position and get comfortable again.

Buy a Riser Recliner
If you order before midday, we offer free delivery, and your chair will arrive the very next day!
You can also contact us to book a free demonstration. We would love to show how our products can help to make change to your everyday life.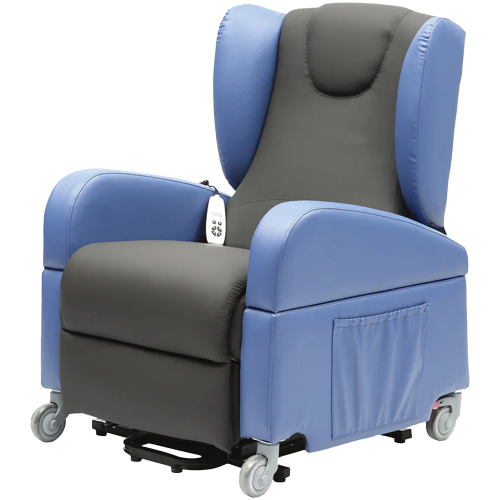 Frequently Asked Question
Besides a perfectly upholstered cover and comfortable cushions, you should also ensure that your knees, legs, and back are supported and that your feet can touch the floor. This is so that you can ensure your whole body is being properly supported.
Each riser recliner comes with a super simple handset. It should be easy to operate your recliner, as the remote will be kept very minimal, with straight forward buttons that move your chair upwards or move it down into a reclining position.
A good riser recliner cost can range from £500 to over £1,000. They are available in a huge price range so anyone who needs one will be able to get one. Everyone deserves comfort!